Another tragedy met with delay from the Bush administration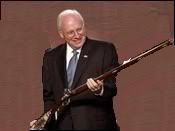 Disaster with Bush & Co in charge means that delay is necessary to allow time for spin and cover-up.
This time the disaster was that Cheney physically shot a man in the head, neck and chest with a shotgun.
The vice president's office did not disclose the accident until nearly 24 hours after it happened.
CNN
The Whitehouse spin:
Whittington "came up from behind the vice president and the other hunter and didn't signal them or indicate to them or announce himself," Armstrong said. "The vice president didn't see him.."
According to the spin it was the victim's fault.
This is not a big news story because unfortunatly getting shot in the head is a pretty common occurance these days:
On average 155 members of the Iraqi security forces die per day
For americans around 3 people die per day.
Cheney
almost
killed only
one
person. So it's really not a big deal.
---
Update:
It seems that the tragedy was not the shot person after all but the fact that Cheney was hunting illegally. The shot person also caused another problem, they didn't report the gun shot as required by state law.
Hunting illegally
1 shot person
Didn't report crime
Fortunatly Cheney knew the
standard Bush standard response to disaster
.
---
Update:
"Hunter shot by Cheney has '
minor
heart attack'"
CNN
Cheney's had bigger and scarier heart attacks than this guy, besides American's have like hundreds of thousands of heart attacks per year. This guy was probablly going to have one anyway. So it's kind of like Cheney did him a favor by getting him to the hospital quickly and preemptively.
This is not a big story.